The IMPERATOR company awarded at the Hauts-de-France Responsible Care® Trophies thanks to our HIT-NOT pedestrian detection system when approaching a forklift.
As part of an event dedicated to Corporate Social Responsibility, France Chimie PCA is organizing in collaboration with France Chimie Nord Pas-de-Calais the Responsible Care® Hauts-de-France Health Safety Environment Trophies 2020 . These trophies reward chemical companies from both regions for their commitment to Sustainable Development and the implementation of innovative approaches in the areas of Occupational Health, Industrial Safety, Environment and CSR.
At the end of the jury organized on November 28 in Saint-Quentin, made up of institutional representatives (DIRECCTE, CARSAT, DREAL) and industrial representatives, 5 companies were awarded for their remarkable actions.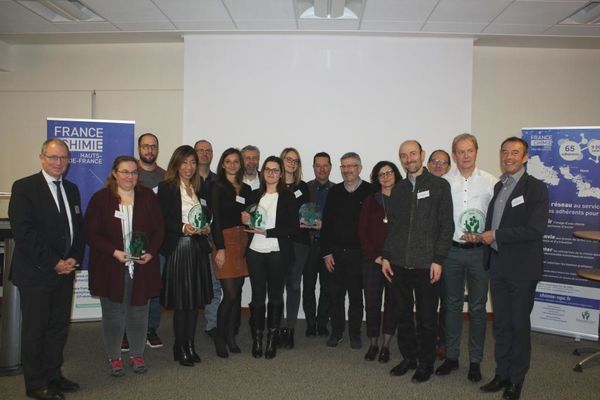 WORKPLACE SAFETY HEALTH TROPHY
The IMPERATOR company located in Baisieux (59), whose activity is the manufacture of lubricating greases, was rewarded for the installation on its trolleys of a pedestrian detection system which automatically activates a audible and visual alarm. The trucks are also equipped with a roof radar which decreases the speed when an obstacle occurs.
Discover the petion detection system by magnetic field
The HIT NOT is an innovative device to aid in the detection of pedestrians when a truck is approaching or speed reduction when two trucks pass each other by using a low frequency magnetic field. The main advantage of this device is its high performance detection field. Indeed, the HIT NOT is able to detect trolleys or pedestrians even through racks, partitions, pallets of metal cans, etc …
When a pedestrian equipped with the PAD (Personal Alarm Device) enters the low-frequency magnetic field emitted by the MFG (Magnetic Field Generator) installed on the machine, the driver and the pedestrian are warned at the same time by an audible and visual alert.
To learn more about how the NOT HIT pedestrian detection system
Also discover all the products marketed by TILT-IMPORT intended to improve safety and reduce the risk of collisions between pedestrians and handling equipment in warehouses: Click Here